Need Help?
Have a question about our school?
Click here to
Ask AoPS Academy!
Our Team
Our Founders
Richard Rusczyk
Art of Problem Solving was founded by Richard Rusczyk in 2003 to create interactive educational opportunities for avid math students. Richard is the author or a co-author of 7 AoPS textbooks and a past Director of the USA Mathematical Talent Search. He was a participant in National MATHCOUNTS, a three-time participant in the Math Olympiad Summer Program, and a USA Mathematical Olympiad winner (1989). He received the World Federation of National Mathematics Competitions Paul Erdös Award in 2014. He graduated from Princeton University in 1993, and worked as a bond trader for D.E. Shaw & Company for four years. AoPS marks Richard's return to his vocation - educating motivated students.
Glen Dawson
In 2014, Glen founded a learning center in Morrisville, North Carolina, that two years later became the first AoPS Academy campus. Glen served as the National Director of AoPS Academy until his retirement in 2019. He has experience as a college math professor, statistician, and expert SAS programmer. He has been a professional math tutor for many years, and specializes in training academically-advanced and high-performing math students. Glen is a graduate of Duke University and holds a graduate degree in statistics from Boston University.
David Patrick
Dave joined AoPS in 2004. He is the author or a co-author of 4 AoPS textbooks. Dave earned the sole perfect score on the American High School Mathematics Examination (AHSME) in 1988 and was a USA Mathematical Olympiad winner that year. He attended the Research Science Institute (RSI) in 1987, and the Math Olympiad Summer Program in 1988, where he first met fellow student Richard Rusczyk. He also finished in the top 10 on the Putnam exam in 1991. Dave graduated from Carnegie Mellon in 1992 with a BS in Mathematics/Computer Science and an MS in Mathematics. He went on to earn his Ph.D. in mathematics from MIT in 1997. He was an acting Assistant Professor at the University of Washington from 1997 to 2001. Dave is originally from Western New York and is an alumnus of the SUNY Buffalo Gifted Math Program.
Management Staff
Interested in joining our team? Click here to learn more!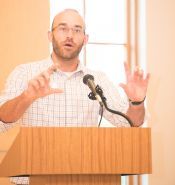 Sean Russom - Campus Director
Sean is the Campus Director for AoPS Academy Santa Clara/Cupertino as well as the Area Director for the broader South Bay region. Before coming to California, he served as the Campus Director of Virginia's AoPS Academy Vienna, where he also oversaw the Gaithersburg, Maryland, and Princeton, New Jersey campuses. An experienced teacher of gifted children, Sean has taught math at both the middle- and high-school levels, served as the coach of a successful MATHCOUNTS team, and designed the Algebra 1 curriculum for the high school where he used to teach in North Carolina. He holds a Bachelor's degree in math from UNC. In his spare time, Sean loves creating challenging math problems for his students.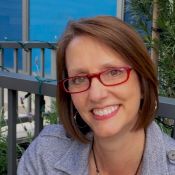 Katrina Ayres - Associate Director
Katrina is an Associate Director at AoPS Academy Santa Clara. She loves anything related to words, reading, or writing. She wrote her first poem at age 5 and created a classroom for her dolls and stuffed animals as a preschooler. As a middle school student, Katrina often read the dictionary for fun. Naturally, she became a teacher and author when she grew up. Katrina holds a Masters degree in education and teaching credentials in three states. She has published four books about classroom management for teachers. When Katrina isn't working, she loves to bicycle, play chess, and prowl her local library for new books.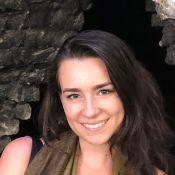 Ellen Kulinsky - Associate Director
Ellen is an Associate Director at AoPS Academy Santa Clara. She grew up in a mathematical family, where she was introduced to AoPS textbooks at a young age, and spent her school years competing in and training her fellow students for contests like MATHCOUNTS and the AMCs. Ellen earned her BS in applied math from UC Berkeley and has taught at math circles in the Bay Area and beyond. Her passion for working with young learners also drove her to conduct research in mathematical cognition, focusing on how to help students understand fractions. When Ellen isn't teaching, she loves comedy, live music, and traveling the world.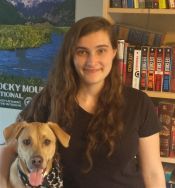 Rebecca Sodervick - Associate Director
Rebecca is an Associate Director at AoPS Academy Santa Clara and previously served in the same role at AoPS Academy Bellevue. She loves teaching math to students from elementary through college and once coached a state-qualifying MATHCOUNTS team. She holds an MS in mathematics from the University of Michigan and a BS in advanced mathematics from Michigan State University, where she supervised one of the math learning centers and spent her summers helping direct the math summer camp. Working with colleagues from universities in China, she also organized the Discovering America Exchange Program. For fun, Rebecca likes being outdoors, cooking, and spending time with her playful dogs, Dexter and Jill.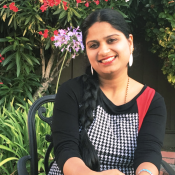 Sampada Raghavendran
Sampada is the Bay Area Outreach Manager for AoPS Academy. She was one of the first to join the company in Morrisville, North Carolina in 2014 and holds a Bachelor's in computer science from Bangalore University in India. Sampada has served on the executive boards of many non-profit organizations, including Pratham USA, (NC Chapter), the North South Foundation, and Sampige. She has three wonderful kids (who are also big AoPS fans) and moved to the Bay Area in July 2017. When she isn't telling everyone how wonderful AoPS is, Sampada loves to read, travel and spend time with her family.
Instructors
Interested in joining our team? Click here to learn more!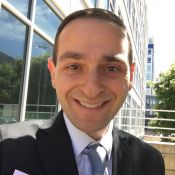 Ricky Alexander
Ricky believes the English language can be a magical tool for self-expression. He loves the creative process that a rigorous and engaging education in English Language Arts fosters. Ricky graduated with Honors from Santa Clara University in 2009 and has worked in education, government, real estate, and the non-profit sector. His greatest love has always been teaching students and inspiring them to strive for academic excellence and personal growth. He has been a private tutor working with students from Santa Clara and San Mateo counties for ten years and specializes in English Language Arts, Spanish, test preparation, and admissions advising and essay writing. Outside of being an educator or curling up with a good book, Ricky enjoys spending time with family and friends, being in nature, trying out different gym classes, and traveling.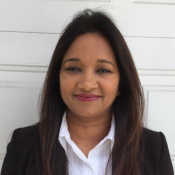 Ruchi Arora
Ruchi's passion for teaching mathematics led her to teach at AoPS Academy so she could work around kids and enjoy problem solving. She has a Master's degree in engineering from Punjab Engineering College in Chandigarh, India and is currently working at Hitachi as a Data Architect & BI Analyst. She has over 10 years of teaching experience from her time in India where she worked as a professor at her college. Ruchi has two beautiful daughters. Working with them and their friends has helped her understand the challenges a young mind can have in solving problems. Outside of work, she loves to read, go for walks, and play Scrabble. Her favorite foods are anything chocolate!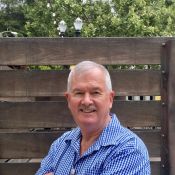 Keith Ayres
Keith loves math! He earned his BS in elementary education from Western Oregon University in 1994 and holds teaching credentials in California and Oregon. He was named Coach of the Year in 2012 by Oregon's Chess For Success and retired from classroom teaching in 2017. Currently, Keith works part time at the Children's Discovery Museum of San Jose, where he gets to help children of all ages discover the joy of learning. When he isn't teaching, Keith enjoys playing chess with his wife, exploring San Jose on his bicycle, and spending time with his grandchildren.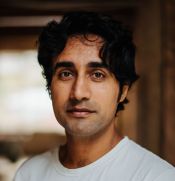 Dr. Gurjeet Bagri
Gurjeet was born in England where he completed his PhD in Mathematics and later worked as an actuary within the finance industry. During this time he had various stints at teaching mathematics. He worked as a private tutor teaching students from age 8 all the way up to university undergraduates and also worked as a classroom assistant for professors in university classrooms. He feels his education and professional experience have given him a greater appreciation for mathematics, both in the theoretical side and in its application in today's world. Gurjeet is keen to continue his journey and passion in teaching. He finds it both rewarding and fulfilling to be able to directly impact students and explain complex mathematics in an easy to understand way. Outside work, he has a passion for yoga and performance arts and works as a yoga instructor in the Bay area.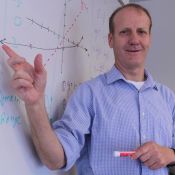 Dr. Zachi Baharav
Dr. Baharav enjoys exploring new subjects with math students, and values emphasizing basic principles while also making time for reflection. He earned his PhD in electrical engineering from Technion – Israel Institute of Technology and has worked as a researcher, manager, and CTO, as well as a high school teacher and a university professor. Dr. Baharav holds more than 30 US patents, has published over 40 scientific papers and book chapters, and is a distinguished lecturer and a senior member of the Institute of Electrical and Electronics Engineers. Outside the classroom, he enjoys the outdoors, drawing, and running, and can often be found enjoying a game of chess.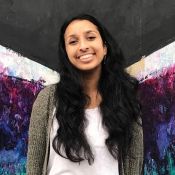 Jeevika Bhat
An avid problem solver who loves to search for math in everything, Jeevika holds a BS in mathematics from the University of California, San Diego, with minors in dance and linguistics. She enjoys tutoring and teaching math to passionate young students and is keen on fostering the young minds of the next generation of mathematicians. In her free time, she loves to dance, learn about word roots and etymology, and cook for her food Instagram.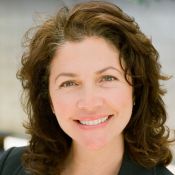 Sarah Crenshaw
Sarah's love of writing and storytelling first led her to a career as a journalist. She graduated from the University of Missouri-Columbia and worked as a television news reporter and radio broadcaster, then completed a law degree while also teaching introductory writing classes for college freshmen and sophomores. After relocating to California with her family, Sarah switched careers again and became a middle school English language arts teacher. Outside the classroom, Sarah enjoys fishing, growing vegetables, and traveling with her husband and their two children.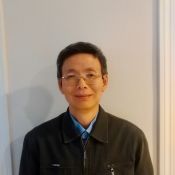 Dr. Paul Du
Dr. Du has been teaching math to students from middle school through college for more than 15 years. He holds a PhD in mathematics from the University of Ottawa and an MS in information and systems science from Carleton University. Dr. Du teaches math at De Anza College, tutors students in SAT math, and coaches competitors for the AMC 8/10/12. Outside the classroom, he enjoys hiking, swimming, and music.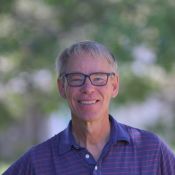 Dr. Pete Dunten
Pete loves learning new math and teaching and tutoring local students. His favorite thing is when his students persevere in solving hard math problems! Pete has a PhD in biochemistry from UC Berkeley and specialized in X-ray crystallography, a field that took him deep into applied math. Pete enjoys the ways that math is elegant as well as interesting and spends his free time tracking local birdlife and visualizing the data from his observations using graphs and histograms.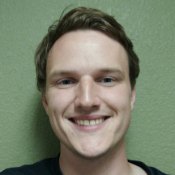 Drew Ellingson
Drew holds a BS in mathematics from the University of Utah and an MS from the University of Michigan. He has taught math, physics, computer science to students from middle school through college and likes teaching with inquiry- and problem-based learning strategies. Outside the classroom, Drew deploys his mathematical interests in stochastics, machine learning, and statistical modeling as a business intelligence analyst. He enjoys playing guitar, drinking coffee, and spending lots of quality time with his girlfriend and their (very spoiled) dogs.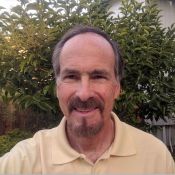 Greg Farkas
Greg enjoys making math fun and interesting for his students! He has been tutoring students of all ability levels from elementary through high school for ten years. Greg has a BA in economics from the University of California, San Diego, and an MBA in Finance from San Diego State University. He has also taught database and spreadsheet classes to working professionals across Silicon Valley. When he isn't teaching, Greg enjoys cycling, archery, and the great outdoors and has a first degree black belt in Shotokan karate.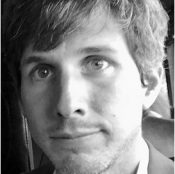 Michael Fisher
Michael holds a Bachelor of Arts in international politics and German studies from Juniata College in Pennsylvania. He was a recipient of a Fulbright Teaching Scholarship and has taught internationally and in the United States for over seven years. As a bilingual teacher, Michael has supported students from different learning backgrounds and cultures, adapting his teaching to accommodate curricula and pedagogy while expanding his skill set. While his expertise mainly lies in English teaching, he also mentors students in life skills, such as time management, organization, and study skills needed for success. As an educator, he values building rapport with students as he assesses and understands their needs, tailoring his instruction to students' unique ways of learning, and fostering students' self-efficacy. In his free time, Michael likes to hit the open road with a long audiobook, scale the many cliffs of Yosemite, or compose genre-blending electronic music.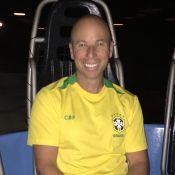 James Hancock
James is a family oriented and math-minded individual. He loves problem solving, logic puzzles, and academia in general. He double majored at U.C. Berkeley in statistics and geology. Most of all, James really loves teaching, particularly when it comes to educating young minds. His other interests include playing a variety of sports, including basketball, tennis, and soccer. James enjoys many other facets of fitness as well, such as cycling, swimming, and hiking.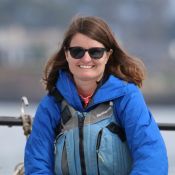 Rachel Hofmann
Rachel's first writing project, circa First Grade, was an epic Magic Schoolbus-style adventure featuring George Washington. She's loved reading and writing since. After obtaining her undergraduate degree from Pepperdine, Rachel earned an MA from St. John's College in Annapolis. She's been teaching ever since. She especially enjoys reading and writing with middle school kids. When she's not at school, you'll likely find her sailing on the Monterey Bay.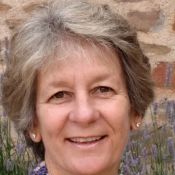 Susan Holtzapple
After graduating from medical school and raising two daughters, Susan rediscovered her joy of playing with math, exploring new concepts, and working on challenging problems and puzzles. She returned to school in 2000 and earned her teaching credential at Santa Clara University. Susan subsequently taught math at Cupertino Middle School for almost 20 years, retiring in June 2019. During that time, she also coached the math competition club, sending several teams to state MathCounts and two students to Nationals. She has received several recognitions for teaching passion and excellence, including City of Sunnyvale Educator of the Year (2014), Sliffe Award (MAA), and the Sterling Award from Stanford. Outside of the classroom, Susan competes in triathlons and other running events, and enjoys hiking and reading.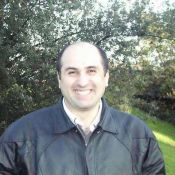 Eugene Ionel
Eugene has been teaching for over 20 years and loves working with gifted students in math and physics. He holds an MS in applied mechanics from Moscow Civil Engineering Institute as well as an MS in applied math from San Jose State University. Eugene teaches math at the College of San Mateo and is passionate about helping his students understand concepts and gain problem-solving skills. Outside the classroom, he enjoys listening to math and physics lectures, reading about world history, and ice skating.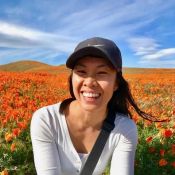 Mary Keonoupheth
Math instructor Mary has been an educator for many years and has worked with primary, secondary, and post-secondary students both in the US and abroad. She focuses on math but has taught a range of other subjects. Mary holds a BA in psychology and is currently pursuing her Master's degree in statistics. When she isn't studying or teaching, you can find her hiking, camping, and enjoying the outdoors!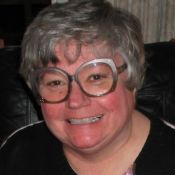 Chris Knoblaugh
Chris taught English at the middle school and fifth grade levels for 18 years at various San Jose Unified School District schools before retiring in 2020. Chris also offers one-to-one creative writing tutoring for students in grades 2-10, and has taught four award-winning clients. She published her first novel in 2018 and released a nonfiction title in 2019. She is writing four more novels at the current time and working on a tutoring series. Chris has a B.A.in English Literature with High College Honors, a B.S. in Biology, and an M.A. in Teaching with Reading Specialization. Her novels and stories incorporate myths, cryptids, regional traditions, and historical settings. She enjoys writing for her students and for her tutoring business. Outside of teaching, tutoring, and writing, she enjoys gardening, reading, and travel. She and her husband live in Sunnyvale with more books than necessary and two rescue kitties.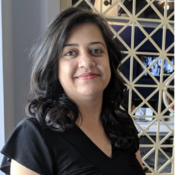 Traptilisa Kumar
Traptilisa's greatest passion in life is teaching math and science. Her interest in teaching stems not just from her commitment to quality education, but also her desire to enrich the lives of students. She has been tutoring and teaching middle school to college-level students for 14 years in various settings – tutoring small and large groups, individual private tutoring, and teaching in classroom settings. She is currently adjunct physics faculty at Foothill College, Los Altos. Her background includes a BS in mathematics, a master's degree in physics from India and an MS in Physics from San Jose State University. Outside the classroom, she likes to solve math puzzles and enjoys hiking and spending time with her son.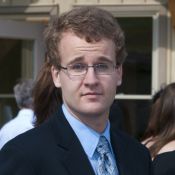 Jeffrey McIntosh
Jeffrey holds a bachelor's degree in math with a minor in psychology from the Canadian University of Waterloo. Having spent ten years writing software for companies across North America, Europe and Asia, including four years building and training a team of people to do the same, Jeffrey realized that what he enjoyed most was guiding his juniors in developing their skills. As such, a new career in teaching was a natural move. In his free time, Jeffrey plays with his pre-school daughter, Mai An. He also pursues the study of machine learning because when it comes to decision-making, two opinions are better than one!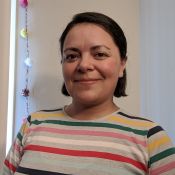 Lorena Montiel
Lorena loves teaching mathematics at a wide spectrum of levels, ranging from elementary school through college. She earned her MMath in Applied Mathematics from the University of Waterloo, in Canada. Currently, she is working on obtaining a MA in Teaching and a teaching credential at the University of Santa Clara. Lorena has been tutoring math since she was an undergrad in Mexico and loves helping her students to gain strong math foundations and, most importantly, self confidence in their math abilities. When she is not in the classroom, either as a teacher or as a student, she enjoys exploring the many ecological corners that our planet offers.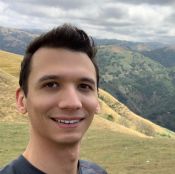 Michael Nasti
Mike has been a contest prep and academic tutor for middle school through college math for the past eight years. He has a passion for teaching and extensive problem solving experience including qualifying for the USAMO and placing first in the Illinois State Math Team competition. He earned his degree in mathematics from UIUC in 2010 before moving to the Bay Area. In addition to math, Mike also enjoys cooking, fitness, West Coast Swing dancing, video games, and board games.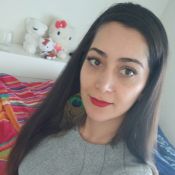 Tandis Nowrouzi
Tandis loves teaching and learning languages and believes this is the fundamental step toward bridging gaps and communication between people. She believes that the youth of today are the light of the future and hopes to make an impact on their educational path toward achievement. She loves teaching kids because of their passion and contribution of exciting new ideas. She has experience teaching students from second grade all the way into college. She currently is also an adjunct instructor at Mission College and graduated with a Bachelor's in Spanish and a Master's in Linguistics from San Jose State University. She has also taught abroad in China for one year. Her passion for language and connecting people can be expressed through her teaching. She loves to travel (and has been to over 20 countries), learn new languages (she speaks four already!), and dance to all kinds of music.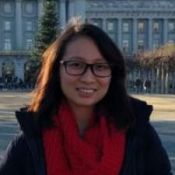 Lia Pratomo
Lia Pratomo has taught all levels of math from middle school through calculus and loves helping her students master math concepts. Before she became a math teacher, Lia worked as a materials and technical engineer at Hewlett Packard, Wacker Chemical, and Singapore's Nanyang Technological University. She earned her Bachelor's in materials engineering from NTU. Lia is excited to work with AoPS Academy's wonderful students!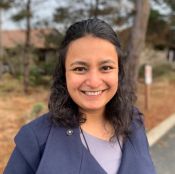 Sandhya Raman
Sandhya's passion for teaching math was instilled through decades of watching her mom teach with utmost passion. She has an engineering degree in computer science from India and a Masters in teaching from Rossier School of Education (USC). Sandhya first came across Beast Academy when her daughter was 6, and has been an ardent fan ever since. Sandhya self-identifies as a "carb-ivore" and strongly believes that travel is the best teacher. Her favorite pastime is sleep, though she also enjoys hand embroidery, reading, hiking and traveling.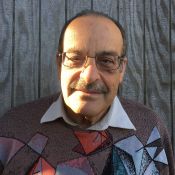 Marc Roth
Marc Roth is a veteran math teacher. He has a B.A. and a secondary teaching credential from U.C. Berkeley. He is also a math circle instructor for students and teachers, a conference presenter, and a curriculum designer.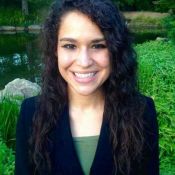 Michelle Sekuras
Language arts instructor Michelle loves watching creative younger learners play with words and build ideas. She holds degrees in history, religion, and law, and has taught students as young as five and as old as sixty. Michelle teaches writing and essay skills to elementary and high school students, which means she gets to use her background in communication, logic, and research and writing to help others hone their ideas. Outside the classroom, she loves cycling, hiking, kayaking, and listening to music.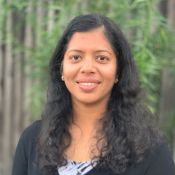 Jaya Swaminathan
Jaya loves problem solving. Whether it's puzzles, a tricky math problem or a strategy game, she is always up for the challenge! She holds a Bachelor's in engineering from BITS Pilani, India and worked as a software engineer. After moving to the Bay Area, Jaya has been helping her children prepare for math competitions. She believes in building strong foundations to equip her students to become creative problem solvers and lifelong learners. Outside of math, Jaya enjoys cooking, spending time with her daughters, and getting creative with DIY projects!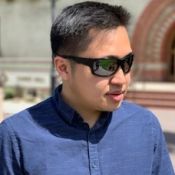 Richard Tiongco
Richard holds a MS degree in chemical engineering from SJSU and currently works as a research assistant at the Intel Corporation in Santa Clara. He is an engineer by profession but an educator at heart. For many years, he has taught various mathematics courses from pre-algebra up to differential equations. He is a self-described sushi aficionado and HQ Trivia and Words enthusiast. In his spare time, he enjoys playing video games, watching documentaries and crime series', traveling, and spending time with family and friends.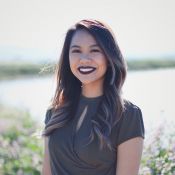 Vivian Tran
Math instructor Vivian earned her BS in biochemistry and Master of Arts in Teaching from Santa Clara University and works as a high school chemistry teacher. Vivian got her start teaching back in her own high school days, when she started tutoring her peers in math and science. Outside the classroom, Vivian enjoys reading, spending time with family and friends, and trying out new bubble tea cafés.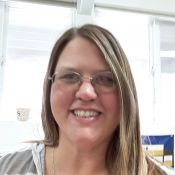 Sharon Welty
Sharon loves teaching math to children and especially enjoys seeing their light bulb moments! She has been an elementary school teacher for more than 25 years and has a Bachelor's degree in elementary education from Hyles-Anderson College. In 2019, Sharon also earned her National Certificate for STEM Teaching through the NISE. She teaches fifth grade in Santa Clara and spends her summers in West Africa, training teachers at a school in Liberia. Sharon enjoys spending time with her husband, their three adult children, and two cats.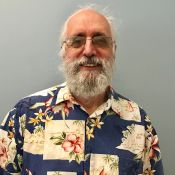 Stephen Wolfe
Stephen has been teaching math on and off since 1975 to middle schoolers on up to the community college level, including De Anza College. He graduated with a BS in math from MIT in three years and earned an MAT in math education from the University of Chicago in one. Combining his love of cycling and travel, he has bicycled in 29 countries and 49 states including a two year bicycle trip around the world. A love of art, especially photography, is in his genes and that colors his view of learning math as more like art rather than accounting.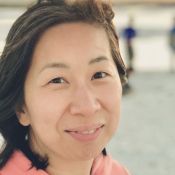 Dr. Ying Xu
Ying loves math and teaching. She enjoys interacting with young minds and helping them to reach their full potential. After receiving a BS from Tsinghua University in China, she earned a Master's and PhD in electrical and computer engineering from the University of Rochester, where she studied laser and condensed matter interactions in the femto to picosecond regime. Now, working as an optical engineer, Ying is working on new technologies that can help improve the quality of life. Outside of work, Ying enjoy spending time with her family and friends and traveling around the world.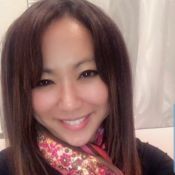 Emily Yim
Emily Yim graduated with a B.A. in English from Wellesley College in Wellesley, Massachusetts on the East Coast. For the past 10 years, she has taught English to K-12 students at schools, learning centers, and private tutorials. Emily has also been a visiting lecturer at the university level at Hong Kong Polytechnic University. Having worked with both Native English Learners as well as English as a Second Language students in both Silicon Valley and Hong Kong, she has conducted both English language and literature classes to students of all levels of mastery. In particular, she is familiar with working with students from dual cultures with bilingual or even trilingual backgrounds. As a Language Arts teacher at AoPS, Emily is excited to work with you and your child for the rest of this school year and beyond!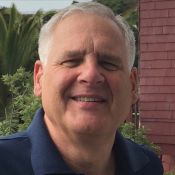 Bill Zabor
Bill Zabor loves helping his students learn new concepts and overcome challenges. He has been teaching math for more than 15 years and tutors middle- and high-school students from across Santa Clara County. He is experienced in a wide range of math subjects, from algebra and geometry to trigonometry, calculus, and statistics. Bill holds a Master's in electrical engineering from MIT and an MBA from UC Davis. Outside the classroom, he enjoys hiking, spending time outdoors, and traveling.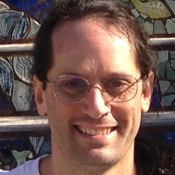 Joshua Zucker
Math instructor Joshua Zucker first joined Art of Problem Solving's Online School in 2007. He was a member of the first US team at the International Physics Olympiad, a Top-10 scorer on the Putnam Competition, and competed for Team USA at the World Sudoku Championships. Joshua holds a BS in physics and an MS in mathematics from Stanford, as well as an MS in astrophysics from UC Berkeley. He has taught math to gifted elementary students as well as remedial courses at community college. A former problem writer for MATHCOUNTS and director of the Bay Area Mathematical Olympiad, Joshua also was the founding director of the Julia Robinson Mathematics Festival.